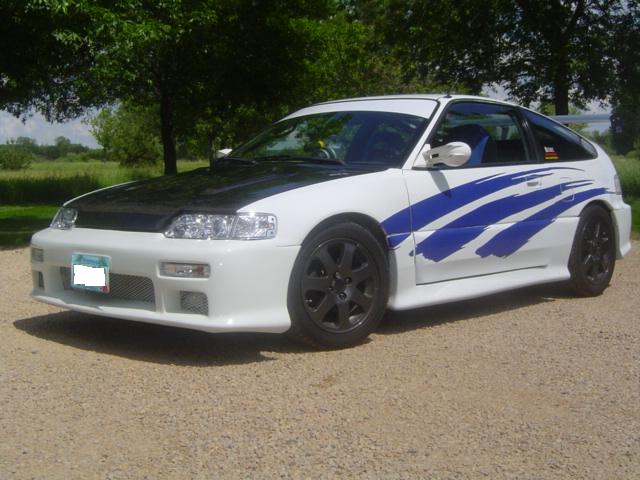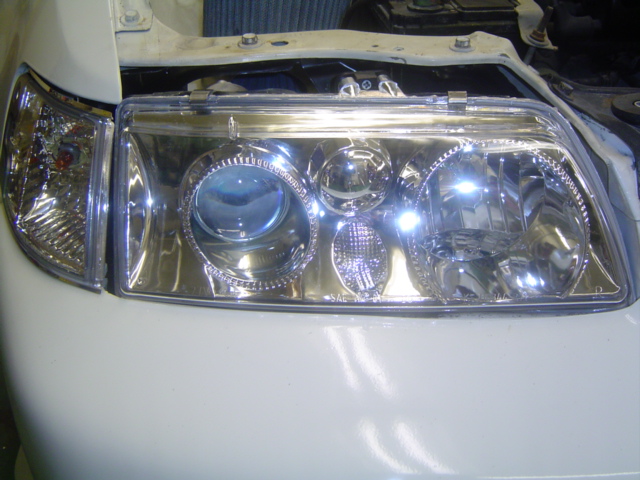 Exterior:
Wings West RS Series Polyurethane Bodykit
APR DTM Aluminum Spoiler
Carbon Fiber ZC Hood
Matrix Racing Blue ION G2 Projector Headlights(NEW)
Clear Corners
Altezza style clear tails
SLR Dual LED Side Mirrors
'00 Civic Si Aluminum Wheels(Painted Graphite)w/Bridgestone Rubber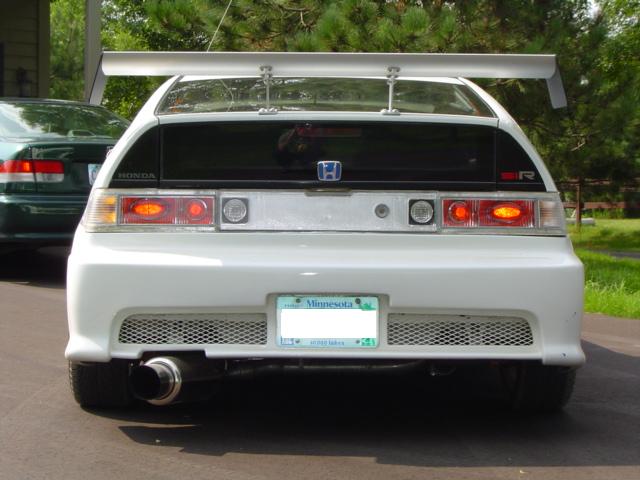 Interior:
NO More DVD/TV player Basic CD Player now
'97 Integra GSR Gauge Cluster Swap
Polk Audio replacement speakers
GTech Pro Competition Meter
MOMO Hub Adaptor
Tenzo R Turismo Steering Wheel
Chrome Type R Shift Knob
Neuspeed Short Shifter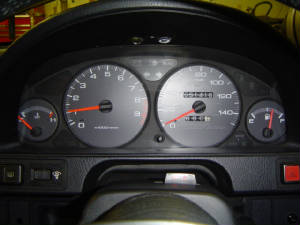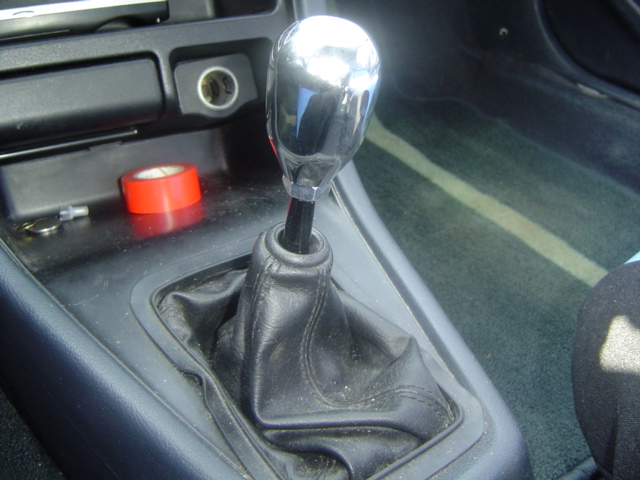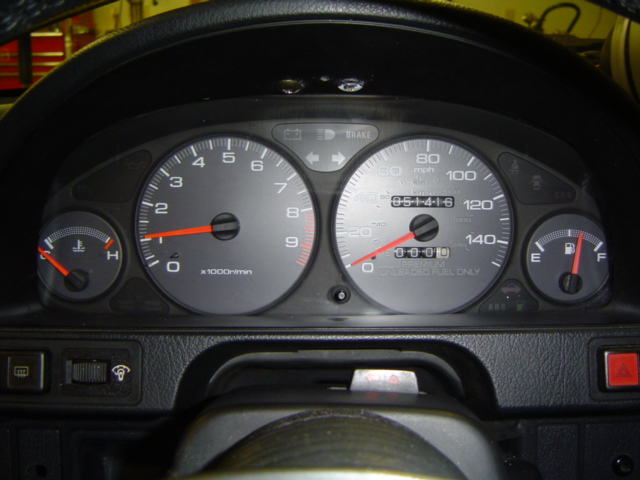 Suspension:
KYB AGX 4-Way adjustable shocks
Arospeed Adjustable Coilovers
'90 Integra Trailing Arms W/ Rear disc brakes
Energy Suspension Trailing Arm Bushings
'89 CRX HF Lower Control Arms
Rear Lower Tie-bar(not pictured yet)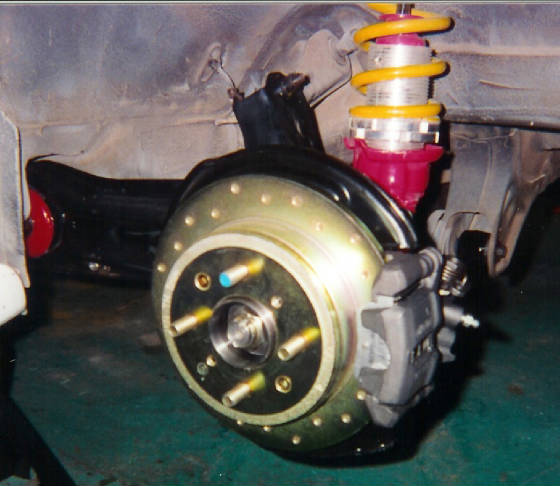 Engine:
Cold Air Intake
MPFI Swap
Fluidyne Radiator
Neuspeed Front Upper Strut Bar
2.25" Pipe From the Cat Back
BOMZ High Flow Cat
Performance Resonator
Arospeed Slant Cut Muffler
As you can see I've got a potent power-maker(Can you sense the sarcasm?). You might be able to tel from the rest of the site that I will be putting in the B20/VTEC motor soon...... when I get some money.... that's not going to be for a while.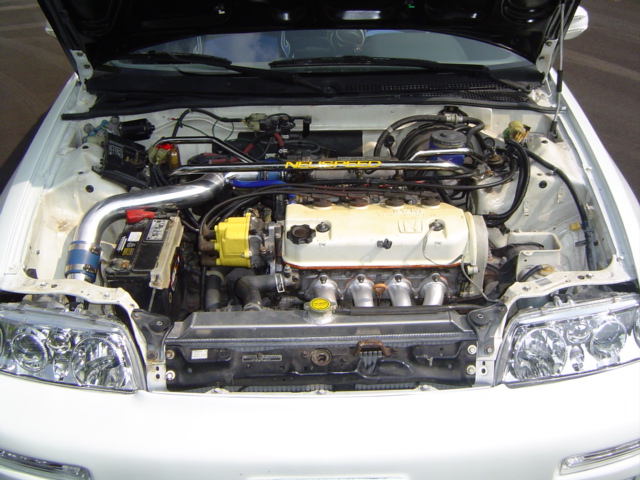 Stopping Power:
Well since my base model CRX came with front disc brakes and rear drums, I decided I would find a way to upgrade the rear drums to disc brakes. And that I did, and it only took me like 6 months to find swap info on it. This site, http://www.fourthgenhatch.com, Is VERY, VERY informative for those of you with 88-91 model Civics and CRXs. This is where I got the information to do this swap and its very descriptive. I highly recommend you go there if you want good information. Anyhow, I basically have '90 Integra rear disc brakes on my CRX, and the swap would be even easier but since the Minnesota winters have taken its toll on my vehicle it made it a bit more difficult than it really is.
'90 Integra Rear Disc Brakes/Brembo Drilled Rotors
'90 Integra Rear Disc Calipers and Such
'88 CRX Front Brembo Drilled Disc Brakes
AEM Performance Pads All around
'91 CRX Si Stainless Steel Brake Lines
'91 CRX Si E-Brake cables
'90 Integra Proportioning Valve
'90 Integra 15/16 Master Cylinder and Brake Booster
Front Brembos....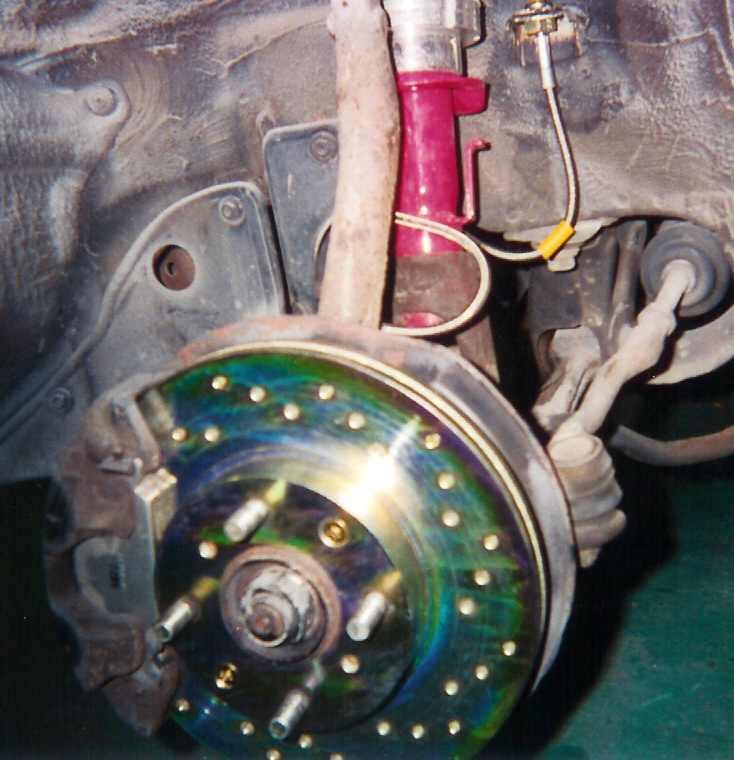 Rear Brembos...